The crew
While the last few years on this blog has taken me to places like Stockholm, Paris, Warsaw, Medellin, Brussels, Reykjavik, Berlin, London, and SO many more (read about them here), I of course know that international travel isn't the ONLY way to have an adventure. Shoot, I can even make great experiences right in my own backyard (wrote about them here,here, and here). One of my favorite type of trips is one where you don't even go that far from home aka THE ROAD TRIP!

Some of the things I packed
The last road trip I took was the six hour drive to the Adirondacks where I partook in a bunch of super fun outdoorsy adventures (read about it here). This time around the trip was centered around one place basically: the Smithsonian National Museum of African American History and Culture (NMAAHC).
I was originally going to drive my Jeep Renegade (which I bought in 2015) but it seats 5 so DriveShop was nice enough to loan me (complimentary) a Mazda CX-9 which seats 7. We had five people in our group altogether: two adults and three teens. We all seemed to be on the notion of "it's a road trip, no need to be strategic in packing," because we all had a little too much stuff (I packed my stuff and my nephew's stuff in separate rolling suitcases even though we didn't have that much stuff—it's so much easier to wheel a suitcase than to break your back holding a duffel bag…lol). My friend Nas also had the same idea because she also packed a rolling bag so we had a bit of a late start getting on the road because we had to play Tetris to get everything to fit in the car. The Mazda CX-9 is a beautiful car and you can get extra trunk space by pushing down the third row of seats, but we just had so much stuff. We were able to get everything to fit though using the empty seat in the back to hold the bags the trunk couldn't, but it was a touch tight. The CX-9 provides a smooth ride and the interior was super sleek—I felt like I was in my own fortress in the driver's seat, but we'd have to be more strategic about how much stuff we pack if we were to do another trip and wanted more space.

Gassing up in Maryland
Despite our spacing issues, we had a smooth safe ride down to DC. I seriously loved how smooth the ride was with the Mazda CX-9 (remember I drive a Jeep and although it isn't "rough," it's not as smooth—but then again it's a 4×4 so I can also go off-roading). I also LOVE that the CX-9 has a blind spot indicator which lights up and beeps anytime a car is in your blind spot on either side. This is perfect for road trips because sometimes you can get a little absent-minded (especially with a car full of people) so this really helps to keep you safe. There were also plenty of USB plugs both in the front and in the back of the car so everyone could plug in their phones. That was SUPER important because although there was a good 20-year difference between us adults and the teens, we're ALL equally dependent and obsessed with our phones…lol.
Embassy Suites by Hilton Washington D.C. Convention Center
We had a bit of a late start on the road and there was traffic in a few spots so we got into DC much later than expected at 11 P.M. Thankfully our hotel was super nice when I called to let them know we'd be checking in late. And man, this hotel was seriously perfect for this trip. Embassy Suites by Hilton DC Convention Center partnered with me for this trip and gave us two complimentary 2-room suites and GURL—even without me being a blogger who is invited on international press trips and given comps every now and then, the rooms at the Embassy Suites by Hilton are a GREAT deal especially for families or groups. I checked the rates for our stay and the suite prices ranged from about $150 to under $200 per night depending on the type of suite you booked. There were some much bigger ones as well that went for upwards of $1000 per night as well, but a majority of the rooms were in the $150-200 range. Of course rates vary depending on when you book.
The rooms we were given were in the $150-200 range so you have an idea. The rooms were SUPER spacious! We had 2-room suites that included a bedroom with 2 king-size beds and a TV, a small kitchen area that included a sink, refrigerator with a mini freezer (which was SUPER important to me because my nephew has type-1 diabetes and we needed a spot to keep his insulin and also a freezer to put the ice pack we use to keep the insulin cold while we're out), microwave (also important because the kids could reheat any food because nothing is going to waste on my watch…lol), living room area with a couch that also had a fold out bed and another TV, and of course the bathroom. If you have a big family, you could actually sleep 5-6 people in the suite (you'd have to be mindful of sharing the bathroom of course) but that's just to show you how much you get for the rate. The rooms were perfect for our group since we had three teens with us—we weren't about to blow our budget on eating outside food so having a refrigerator and microwave was awesome.
Watch a quick video tour of our hotel (no sound)
Embassy Suites by Hilton DC Convention Center Quick Tour from Danielle Gray on Vimeo.
Speaking of food though, I don't think it's possible to go hungry at this Embassy Suites. They have complimentary breakfast (for everyone staying at the hotel) that includes a custom omelette station as well as a buffet. THE. FOOD. WAS. SO. GOOD. I've been to hotels that offer free breakfast and you get down there and there's like ONE waffle machine and like 500 people waiting to use it…lol. This is a spacious, planned-out breakfast line-up with SO MUCH FOOD. You want to make sure you get down there early because the later it gets, the more crowded it gets. We were not playing though—we were down there by like 7:30 most mornings. If you have teen boys or have ever seen how one eats, you'll seriously understand how having a complimentary unlimited breakfast buffet is for your travel budget. TEEN BOYS EAT SO MUCH OMG and we had TWO teens boys in our crew—my nephew and Nas' son. We also had a teen girl with us (my hairstylist and good friend Gabrielle Corney's super sweet daughter) and she doesn't eat meat (neither does Nas and her son) and they all found tons of options at breakfast as well.
Sheesh, there were omelettes, a regular scrambled egg station, waffles some mornings or pancakes on others, cereal, fruit, yogurt, bacon, sausage, all kinds of tea and coffee and so much more. And then in the evening the hotel has a reception where the kids can get snacks, candy, juice, soda, etc. and the adults can have cocktails. One night I had pizza delivered to our hotel room—we kept the leftovers in the refrigerator and used the microwave to reheat when the kids got hungry later. I have video with a full tour of the hotel room and more on my Youtube channel so make sure you're subscribed so you don't miss it and subscribe to my channel here.
Another cool thing about the hotel on top of all that food and space in the suites? They have a pool! The kids LOVED that. I also noticed a jacuzzi but it was full each time we went up, plus I wanted to be able to keep my eye on the kids while they were in the pool.
The hotel was also within walking distance from the National Mall, NMAAHC, and other DC sites, but because of the way DC humidity is setup (man it's HUMID there!), we took Uber back and forth. It made more sense as a group of five to get an Uber XL than to collectively pay for the train—each Uber trip was less than $8 and they all came pretty fast after we requested.
The hotel also has a restaurant (this is also where they do the breakfast) called Finn & Porter which was affordable, had great service, and good food. While the kids (am I the only one who calls teenagers kids? lol—I mean they technically ARE kids…lol) were in the hotel room chowing down on pizza, Nas and I went to check it out.
NMAAHC
I got my tickets in April after hearing about the slot opening up some weeks before that. You *could* walk up to the museum to see if you can just walk in, but demand for the museum has been so high, they've had to create a ticketing system that sometimes means waiting in an online queue to get tickets. Admission is free, but you need a ticket to get in—at least for now as the amount of people wanting to see the museum is HUGE. When I went online in April they were opening up slots for July to give you an idea of how far in advance I planned this out. I didn't want to make the four hour drive to DC and then not be able to get to see the museum. I had learned beforehand from a woman I struck up a random conversation with on a train here in NYC that you need more than one day to see the museum. Shout out to this woman—because of her advice I got tickets for two days. You seriously cannot see everything in one day—there is TOO MUCH TO SEE to see even a fraction of the museum in one day. The first day we went, we spent almost three hours and had only seen maybe 2/3 of the lower three levels which take you from the 1400s through Obama's presidential election. Originally my ticket info said that we'd get wristbands and our visit would be timed, but I'm guessing that didn't happen because we went on a day that wasn't as busy (it was still crowded and busy though—just maybe not as busy as it could get). But our time slot for the first day was at 2 P.M. and the museum closes at 5:30 AND we wound up tired and hungry so we had to stop to eat in the cafe. The next day our time slot was at 11 A.M. and we stayed until about 3/4 P.M. and even then we were tired but determined to see as much as we could without stopping to eat.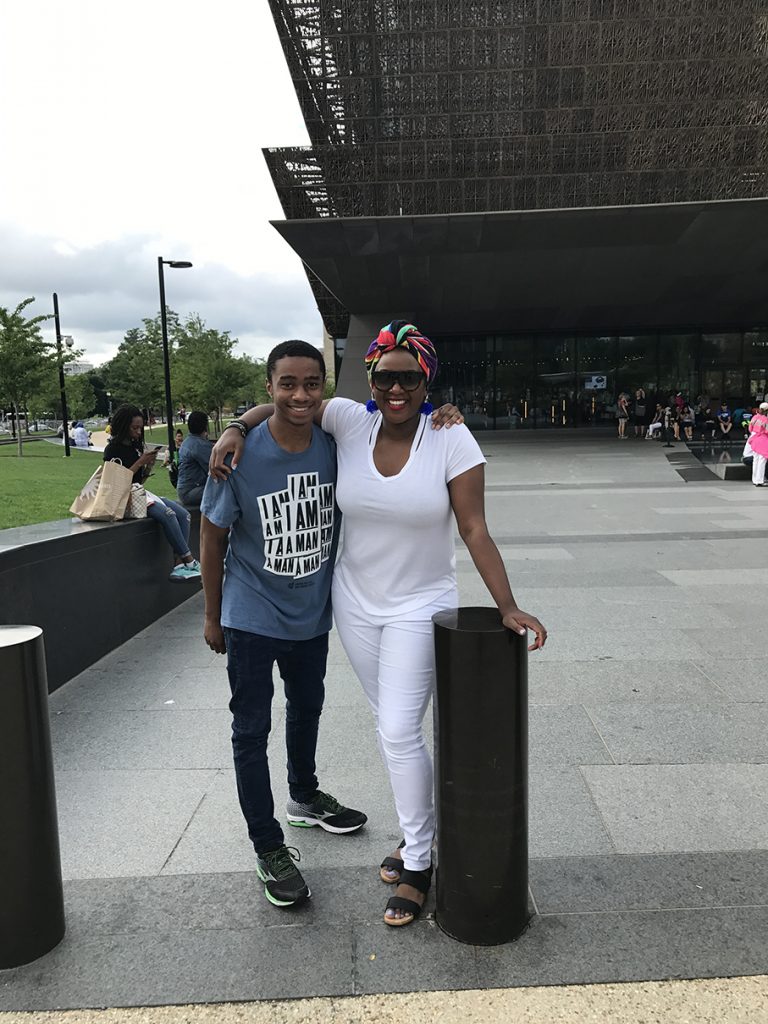 With my nephew
I don't think I could accurately describe the feeling of being in that museum—the feeling of being so close to our ancestors—the feeling of being surrounded by so many Black people I didn't know but still felt like family. It was just SO MUCH–but a good "so much." I know people who get tired of hearing about slavery, but it's important to learn about how the past is still connected to everything we do now in the present and in the future. Plus I think there were always be tons of things you'll learn that you didn't know about before. And don't get me started on how slavery isn't taught well in schools so it's also important to teach and have conversations with your kids about it. And it's important for EVERYONE—not just Black people to visit this museum. African American history IS U.S. history and the notion of it being only important for Black people is dangerous. Learning about the times in history when enslaved and free Blacks, Native Americans, and poor whites tried to join together to revolt only to be shut down with systems that kept us apart is important. The same tactics and systems used then to divide us are STILL being used today. There are many lessons to learn in how whiteness was created to divide and keep the people at the top on the top for centuries.
I felt SO many emotions: sadness, pride, determination, admiration for the love of our ancestors, etc. As we were going through the Emmett Till memorial, we stopped to watch a documentary of Mamie Till years later talking about her son's death. As Mamie Till described in graphic detail what had happened to her son, a rush of emotion just overtook us. There was an older woman standing in front of us and you could see from behind that she was crying and reacting to what she was watching. I wanted to reach out and comfort her, but then Gabi's daughter also started to cry so I grabbed her first. Nas put her arms on the woman's shoulder so as I was holding Gabi's daughter, I leaned in and put my hand on the woman's shoulder. The woman embraced us both by putting her hands on top of our hands and I could FEEL so much power transfer among us. OMG this moment was so electrifying—we didn't know the woman—I didn't even get a chance to see her face and you could FEEL the connection as we all sobbed for Mamie and Emmett and our people.
I like how the museum is setup to take you from just before the slave trade through slavery through Reconstruction through Civil Rights through the riots of the 70s and 80s through the drug and mass incarceration plagues and into the election of Barack Obama. But while it celebrates our culture and highlights the centuries of terrorism that Black people endured in this country, it also doesn't sugarcoat slavery or gloss over its effects and how the same tactics are being played out even in this day through systematic racism. Like I already said, this is a MUST visit for EVERYONE: white people, people of color, non-Black people of color, etc.

I've been to DC a bunch of times and had already seen a lot of the monuments and went up to see the White House (back when the Obamas were in office), but this time around no one was interested in seeing any monuments so we at least got this snap in front of the Washington Monument seen from the NMAAHC…lol.

At the American Art Museum
We also had Artechouse on our list of museums to visit (because it looks so daggon cool) but we just didn't have time. They have evening hours, but you have to be 21+ and the kids really wanted to see it, too. We did wind up at the Smithsonian American Art Museum (free admission) and looked through the "Down These Mean Streets: Community and Place in Urban Photography" exhibit. We all loved it—it includes a collection by photographer Camilo José Vergara who photographed how the same storefront in Harlem changed in a span of four decades. There's also tons of great street style photos in the exhibit showcasing NYC in the 70s and 80s.
I wish we had maybe one more day in DC but we still had an amazing trip with the time we had. This whole trip just goes to show you don't have to have a big budget or travel far outside where you live to have a great adventure and experience. Thanks so much again to Embassy Suites by Hilton DC Convention Center for being so amazing and gracious during our stay and to DriveShop for the fly wheels!
Have you been to DC? What did you do there? Have you seen the NMAAHC? Tell me all about it!