Read ALL about my review process including how I take swatches, photos, and more here.
NARS finally has a foundation stick! I remember my first ever NARS purchase (which was also my first ever Sephora purchase) back around 2001. I waltzed into what was then a brand new Sephora (and only like the second store to open in the U.S. at the time) at Roosevelt Field mall during one of the blocks of my school day where I didn't have class (I attended nearby Hofstra University). My purchase consisted of Outlaw blush and an eyeshadow duo that has since been discontinued. After that I had been a huge fan of the brand accumulating almost every blush shade that flattered my skin tone (and some for my kit back when I was a makeup artist), a ton of eyeshadow duos, Multiples, lip colors, and more. Through blogging I've tested a number of NARS foundations and it was so amazing to hear the brand finally has a foundation stick. But of course this is NARS so it's not simply a foundation stick, but the NARS Velvet Matte Foundation Stick.
Official description:
Matte maker. Rule breaker. Look changer.

Introducing the first foundation stick with a built-in, removable Touch-Up Blender designed exclusively to be used with the Velvet Matte Foundation Stick. This all-in-one pro tool and foundation stick can be used for all-over coverage or touch-ups on-the-go. Its soft-matte finish and creamy, blendable tex¬ture layer easily for medium-buildable coverage. It can be applied multiple ways: with fingertips, directly from the stick or with the remov¬able Touch-Up Blender, to create various effects.

Uniquely latex-free, the multi-purpose Touch-Up Blender makes artistry effortless with a simple, waterless application. The perfecting effects are right at your fingertips: apply directly to skin from the stick to layer and build allover coverage. Blend in with fingertips, or use the Touch-Up Blender to stipple on and buff targeted areas of the face. The result: instantly smooth, comfortable, soft-matte perfection that doesn't dry, streak, or look cakey. Stick it to the rules.
NARS sent over an array of shades of the NARS Velvet Matte Foundation Stick for review consideration and were kind enough to send over more of the deeper shades I requested so I could have a good range of the darker shades to review for you guys.
Performance-wise, NARS Velvet Matte Foundation Stick is the business. It almost seems unbelievable that a foundation stick could be matte since so many of them are incredibly creamy, but NARS Velvet Matte Foundation Stick while creamy is a very comfortable matte. It's not casket-sharp, it's a matte that looks smooth and natural. Like most foundation sticks, you can customize your coverage: sheer it down or layer it up if you need more. I was very impressed with the wear of this foundation—on a normal hot summer day it wore really well with only a few touch-ups needed (I have oily skin—but mind you I also follow a skincare regimen that helps keep my skin balanced—read more about oily skin tips here).
Now while I loved the performance, I was not loving the undertone selection. I found okay matches in previous liquid foundation launches which makes sense though—sometimes the same shade name (or number) in a brand can look different depending on the foundation formula. This happens sometimes because of the water content in the foundation formula. I remember matching to shade Trinidad in one of the liquid foundations, but Trinidad in the NARS Velvet Matte Foundation Stick was too light and the wrong undertone. I actually don't have a good match in NARS Velvet Matte Foundation Stick. Benares came the closest, but the undertones were off (my undertones are neutral). I also didn't have good options for what I like to use to highlight and contour. Khartoum is the deepest shade but not as deep as the color I like to use to contour (I like either Cover FX P125 or N120). The closest highlight shades for me were either Macao (darker than what I typically like) and Cadiz (not the right undertone). I like to use either Bobbi Brown Creamy Concealer in Golden or Cover FX Total Cover Cream Foundation in N70 or N80. You can see posts on highlighting and contouring here and if you want to see videos, check them out on my Youtube here.
Watch Contouring Mistakes and How to Avoid Them
Watch Makeup 101: How to Highlight and Contour Dark Skin
Watch My Updated Foundation Routine for Dark Skin
Now, not every foundation line is meant to highlight and contour (sometimes the undertones don't work) so I'm not "annoyed" (for lack of a better term) that NARS Velvet Matte Foundation Stick doesn't have a highlight and contour option, but I'm really surprised to see there isn't a dark shade with neutral undertones to match me as a base foundation. And not just me, but when I look at the shades, yes there are a ton of darker shades but there aren't a ton of undertone options in the darker shades. Now this is not a reason to cancel NARS (slang for boycotting) but a way for me to actually bring home a point I've made numerous times about foundation equivalents and how you can't use MAC as a foundation guide. This is not a bad thing—it's just that you can't expect there to be a MAC equivalent in every brand. Brands in general still need to do a better job at having not only darker shades but also a range of undertones in darker shades, BUT with the lack of darker foundation shades out there, if every brand had the same undertones, it would be even harder for all of us to find a good shade match.
Descriptions of Shades I Have:
(these are the brand's shade descriptions)
BARCELONA: Medium 4 – Medium with golden, peachy undertones
TAHOE: Medium-dark 2 –Medium-dark with caramel undertones
CADIZ: Medium-dark 3 –Medium-dark with caramel and red undertones
MACAO: Medium-dark 4 –Medium-dark with yellow undertones
NEW GUINEA: Medium-dark 5 –Medium-dark with red undertones
TRINIDAD: Dark 1 – Dark with warm yellow undertones
NEW ORLEANS: Dark 2 – Dark with yellow undertones
BENARES: Dark 3 – Dark with golden undertones
KHARTOUM: Dark 4 – Dark with espresso undertones
(there are 20 shades in total)
Sidenote: I tried the sponge but found it a bit too stiff for me (I'm used to using the beautyblender). It's cool it has the sponge on there though—you can see me using it in the video demo below.
NARS Velvet Matte Foundation Stick Demo Video:
(there's no sound on this, so feel free to watch from almost everywhere)
NARS Velvet Matte Foundation Stick Demo from Danielle Gray on Vimeo.
So while I didn't have a good match in this foundation, I still wanted to do a demo video so you can see it in action. I also did a highlight/contour demo but as I mentioned earlier in this review, even those didn't work out well shade-wise.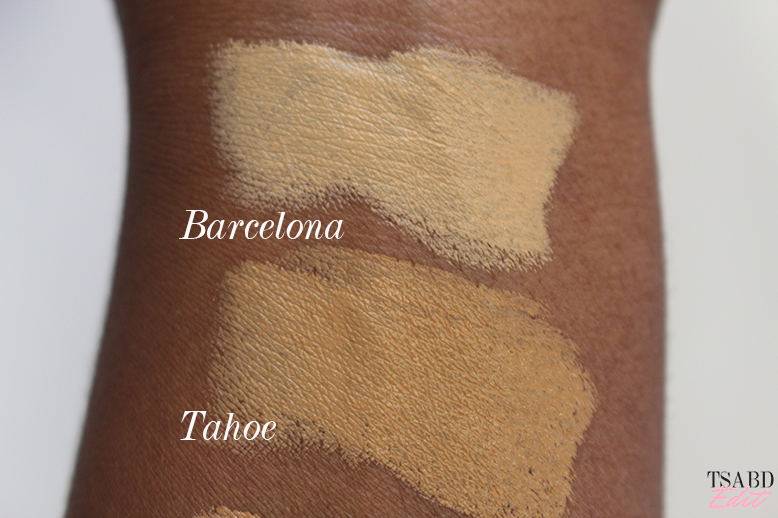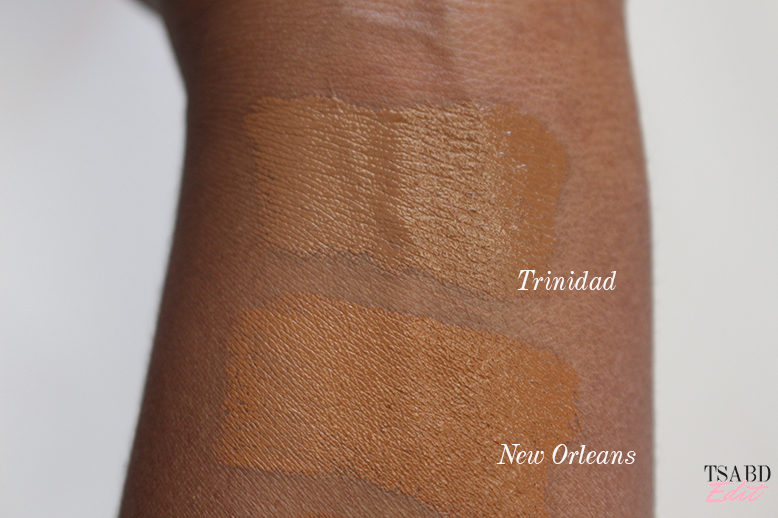 Bottom line: NARS Velvet Matte Foundation Stick performs very well. It has a natural matte finish, buildable coverage, and has good staying power. If you're looking to add a stick to your stash, like a matte finish, AND can find a good shade match, you might like this. I would have enjoyed it way more of course if I had a good shade match.
Price and where to buy: $45 at Sephora, NARS boutiques and counters, and narscosmetics.com. Get up to 4% cash back when you use eBates.
See more foundation swatches and reviews (including other sticks) here
See more NARS reviews and swatches here
NARS Precision Lip Liner
Official description:
Daring definition. Unstoppable color. Relentless glide. NARS Cosmetics introduces the new Precision Lip Liner Pencil, featuring a formula that saturates with budge-resistant color. Laser-focus precision sharply defines with ease. Cross the line. Go over the edge in 26 matte shades.
Note: I'm missing shade Halong Bay—I didn't see it in my package so perhaps it was a packing mistake.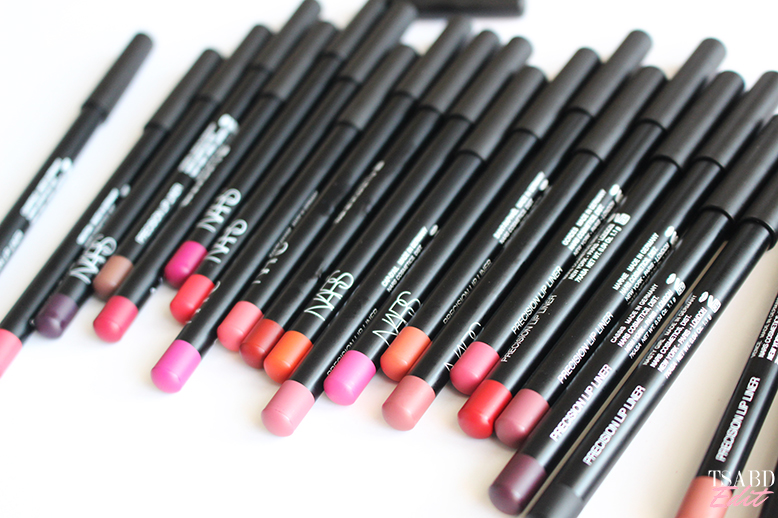 NARS also sent over their new range of lip pencils: NARS Precision Lip Liner. I haven't worn lip liner lately. When I do wear makeup I'm usually wearing gloss that doesn't require lip liner and when I do wear a bold color like a red, I'm wearing MAC Retro Matte Liquid Lip Colour and I just use the wand to line my lips even though I have a gazillion lip pencils. I guess it's mostly because I carry my most used lip colors in my bag and put them on when I'm already out the door and to "preserve space" I don't carry lip pencils in there. But lip pencil of course does help to make your lip color application look neat, it helps prolong the wear of your lip color (especially when you use a similar color as your lip color as a base on your lips), and can also help prevent feathering particularly for those with wrinkles near the lip area. Lip pencils also come in clutch if your lips aren't naturally very defined.
NARS Precision Lip Liner comes in such an amazing array of shades and I was very pleased to see a black lip liner in the bunch especially since I like the black liquid lip color from the new NARS Powermatte line (reviewed here; see me rocking it in a look here).
These aren't extremely creamy so if you're using them for the first time after buying them, you may need to glide them along the back of your hand to dull the point a bit. This makes it a bit easier to glide the product along your lip line and to fill in your lips as well (I don't think any super pointy lip pencil will feel comfortable on the lips).
You can use a shade that most closely matches your lip color or you can use a shade deeper than your lip color for a cool look that adds dimension (i.e. a shade like Cassis or Star Rockin along the lip line with a bright red lip color).
Description of Shades:
(these are the brand's descriptions)
CAMARGUE: Pink Amber
HALONG BAY: Tan Rose (I don't have this shade)
VENCE: Neutral Cinnamon
LÉRINS: Chestnut Rose
CAP-D'AIL: Dusty Mauve
SAINT-RAPHAËL: Guava
JUAN-LES-PINS: Tangerine
HOLY RED: Vivid Orange Red
PORQUEROLLES: Geranium
MARIACHI: Brick Red
MOUGINS: Deep Crimson
ARLES: Bright Peachy Pink
MENTON: Bright Pink Coral
GRASSE: Vivid Pink
SAINTE-MAXIME: Deep Magenta
PORT GRIMAUD: Rich Berry
GORDES: Raspberry
ROUGE MAROCAIN: Deep Burgundy
RIDE IT: Deep Mulberry
MARNIE: Burgundy Plum
LE LAVANDOU: Lilac
CASSIS: Deep Aubergine
STAR ROCKIN': Eggplant
HYÈRES: Taupe Grey
SPUNK: Rich Brown
NASTY GIRL: Midnight Black
Bottom line: NARS Precision Lip Liner is a great product if you're a major lip liner fan. If you're looking for something similar (especially with a good shade range) at a lower price point, L'Oreal just came out with a line of lip pencils that I reviewed here. Check out Jordana lip pencils as well.
Price and where to buy: $24 at Sephora, NARS boutiques and counters, and narscosmetics.com. Get up to 4% cash back when you use eBates.