This post is sponsored by Royal Oils Collection with Head & Shoulders. As always, all opinions are 100% my own.
When I partnered up with Head & Shoulders on the new Royal Oils Collection and started to talk and think about my hair journey, I wasn't sure where to start it. Do I get all obnoxious and start from birth through elementary school, high school, college, my 20s, and now? Do I start from when I finally decided to go natural in 2010? Or maybe that moment back around 2004/2005 when I was working at a bank right out of college and saw a woman with a big thick 'fro in the flyest double denim outfit walk into my office—she single handedly made me want to go natural right then and there. But to spare you a 50,000 word blog post essay, I will just start from when I went natural and quickly get to present day…lol. I'm sharing the hits, the misses (lawd–like not realizing that I didn't have scalp care down like I should), and everything in between. Grab a snack and let's get into this.
I had my last relaxer sometime around July in 2010. I wanted to do a long transition because in my head, I didn't want to do a big chop. That "long transition" lasted like three months tops…lol. I was not having an easy time with managing the two textures. Luckily around that same time I met Gabrielle Corney, my now longtime friend and hairstylist, who gave me my first proper weave. I had tracks in my hair before–I would go to a local Dominican salon and get like maybe 2-3 tracks in the back for length but would only keep it in for like two weeks. Gabi really has been the catalyst to getting your girl's hair together all these years.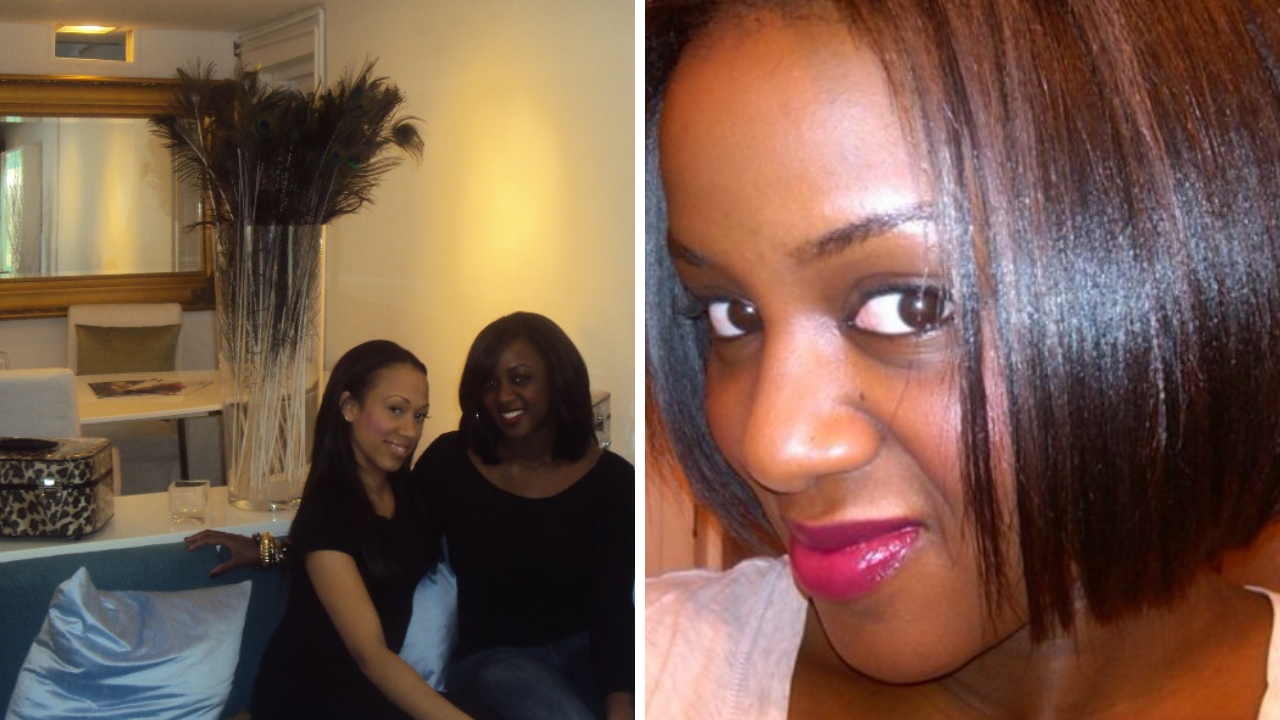 My first two weaves with Gabi—funny how conservative I was with the length then—now I'm like 24″ AT LEAST…lol
I finally wound up big chopping not too long after that, but it was totally unplanned. When it was time to take out the short bob weave, I was procrastinating HARD about going to the salon. I wound up taking it out myself and on a whim decided I might as well cut off as much of the straight ends as possible.

Me with celebrity makeup artist Reggie Wells
I didn't cut all the straight pieces off, so I wound up just going to Supercuts (they had given me a gift card) and a nice Russian lady cut my hair. She did an amazing job and I was out rocking a TWA.
I loved how easy my TWA was to style. All I did back then were wash & go and add a little product for moisture.
Then somewhere after that as my TWA started to grow out, I started to get bored. I would get weaves to overcome the boredom, but my leave out was starting to get heat trained as you can see in the photos above. Looking back now, I wish I would have experimented more with different TWA cuts, but what fun is a hair timeline without some drama? ;)
So at some point, something happened and my hair broke off in a few spots. I can't pinpoint what exactly did it, but it was pretty bad. And I needed to have my hair out for something important. Funny thing is I was thinking maybe I would just shave that side down, but wasn't sure what Gabi would say. When I asked her she hesitated and then said maybe you should do an undercut. So I did an undercut!
I was surprised at how much I loved this style—and it wasn't even that bad to grow out (you can read about how I grew it out here). Only thing that was annoying was I had to keep getting the shaved side touched up because any inkling of hair growing in would show up immediately.
After the undercut grew in, I experimented with some more styles. Eventually I stumbled upon a SUPER easy way to care for my natural hair after being on a loooong weave break. But what I hadn't yet had a hang on was caring for my scalp. I mean, I *thought* I did, but girl, I did not.
But a trip to Procter & Gamble's headquarters for an intensive day at Head & Shoulders Scalp School got me together when it came to my scalp health. I feel like we focus on so many things about our hair: curl patterns, edges, split ends, etc. but the mic drop statement when it comes to hair: healthy hair grows from the scalp. Let's run that one again: HEALTHY. HAIR. GROWS. FROM. THE. SCALP. I got to meet some of the Black scientists who helped create the new Royal Oils Collection with Head & Shoulders which was made specifically with our hair in mind. I learned so much!
There's such a big stigma when it comes to dandruff and scalp care—I even remember being in second or third grade and people would make fun of one of my classmates about her dandruff. I remember she had the most amazing thick, long hair but with her hair parted in two or three, you could really see the flakes. One time it started snowing outside and someone said it was because she scratched her head. One day she HAD it and snapped on damn near everyone. Now I've learned that we ALL have the fungus on our scalp that causes dandruff—if only I knew that back then, maybe I could have helped her school our classmates.
It's true—we all have the fungus on our scalp that causes dandruff and many of us mistake dandruff for other things. It's like "Oh, I don't have dandruff—this is product buildup," or "I don't have dandruff, I just have a dry scalp." But it's really like nah, boo—you have dandruff. And there's nothing to be self-conscious about—like I said, we ALL have the fungus on our scalp that causes dandruff. But you do want to be smart about how you treat it and I saw firsthand from P&G Principal
Scientist Dr. Rolanda Wilkins that many of our home remedies (i.e. oiling or greasing the scalp) can actually make dandruff worse (read more about this here). An ingredient called zinc pyrithione, which is found in Head & Shoulders products including the Royal Oils Collection, is what we need to help significantly curb dandruff symptoms including itch, dryness and flakes, while also moisturizing the scalp. I've been trying the Royal Oils Collection and am EXTREMELY impressed, especially with the Daily Moisture Scalp Cream. I'll be updating you more about the line in the future, so make sure you stay tuned! The collection is available now at Amazon.com, Target.com, Walgreens.com and Walmart.com – and will be in-stores in January.
So that's that so far with my hair timeline. Right now I'm on a weave break just because I want to be able to (hopefully) experiment with a bunch of different styles which I don't always get to do when I have weave in. I just wore a half-wig (see below) for my recent TV segment and it felt SO GOOD to be able to just take my hair off after I was done. I've done half-wigs before but will try to experiment with different textures and slowly work my way into full wigs. I also want to try easy and simple styles that I can do myself, too. Hopefully…lol. I say hopefully because I get these amazing ideas for hairstyles and then wind up not doing some of them. Plus it's almost "let me lay on my family's couch and binge-watch TV" season so I'll be lucky if I even take my bonnet off after I've applied my Royal Oils Daily Moisture Scalp Cream…lol.