Read ALL about my review process including how I take swatches, photos, and more here.
Welcome to another edition of #TSABDEdit! We'll be going over the new Giorgio Armani Power Fabric Longwear High Cover Foundation in shades 11, 12, 13, 14, and 14.5. All shades were sent to me by the brand for review consideration.
Official details:
What it is:
A full-coverage, liquid foundation that perfects with a velvet-matte, lightweight, second-skin finish.

What it does:
This foundation melts into the skin, blurring imperfections while offering daily UVA and UVB broad spectrum SPF 25. Through Armani Beauty's own Micro-fil Technology, powerful ultra-fine pigments are shaped to provide the highest coverage foundation with the thinnest and lightest texture—allowing a little to go a long way. This foundation combines high coverage, an SPF 25 filter, and an ultra-light formula to achieve flawless results up for up to 16 hours. Because every woman is unique, this foundation features an array of 20 shades to suit all skin tones. It's adapted for each shade to deliver optimal coverage without cracking or dulling.
Giorgio Armani Power Fabric Longwear High Cover Foundation is a full coverage foundation with a natural matte finish and is said to be suitable for all skin types including sensitive.
My thoughts:
This foundation is AMAZING if you're looking for a full coverage foundation that still allows skin to look like skin, AND if you can get a good shade match. I loved that it only took a small amount of product to really cover my dark spots and discoloration. This is the type of foundation you can use just where you need it or all over. You can also manipulate the coverage by varying the tools you use to apply it. If you use a makeup brush that has sparse bristles or something that mentions airbrush finish like the Sephora Pro Flawless Airbrush #56, you can sheer the foundation out so the coverage is more light to medium and then build it up where you need a little more coverage. Use a brush with more densely packed bristles, and you'll apply more product and get more coverage.
Although this foundation says it's for all skin types, I did find myself having to touch-up pretty often. If you have oily skin like me, you'll want to make sure you wear a primer and set with a mattifying powder plus keep some blotting powder or papers handy throughout the day.
See more tips for oily skin here.
See also How to Stay Beat in the Heat (How to Make Your Makeup Last During Summer.
If you want something similar but not willing to fork over the $$$, take a look at the NYX Total Control Foundation—you can control how much coverage you get by the amount of drops you use so you can go full coverage and still have a weightless feel.
Shade descriptions from Sephora.com
11 – tan to deep skin neutral undertone
12 – tan to deep skin with warm undertone
13 – deep skin with neutral undertone
14 – deep skin with red undertone
14.5 – very deep skin with red undertone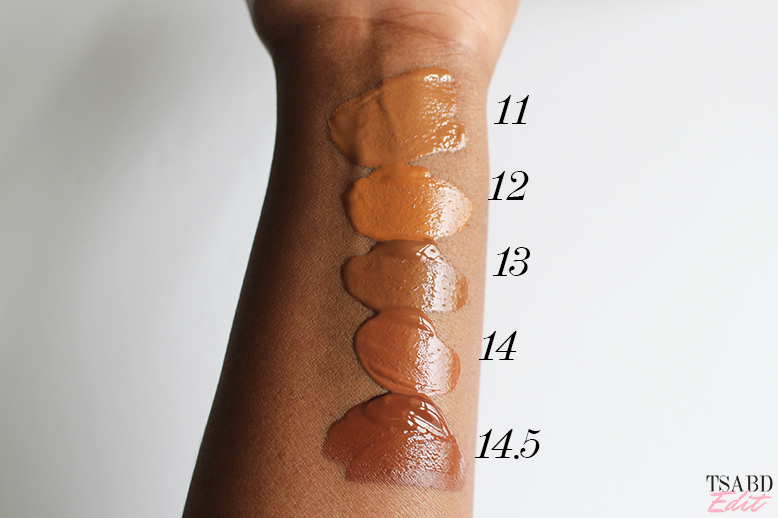 See what other foundation shades I wear in other brands here
Giorgio Armani Power Fabric Longwear High Cover Foundation Video Demos:
I did demos on three of the shades on video so you can see how the foundation looks on. Shade #13 was the closest to my match—shade #14 was too red although that might be a shade that could work on me when I tan. ALSO, please note that the lighting is different when I'm bare-faced vs when I have foundation on so in the before/after part it might look like the foundation made my skin lighter when it didn't. If you look at my neck and chest, you'll see that they also look lighter and brighter in the after (and I didn't put foundation on my neck and chest). I also forgot to do a proper "before" before each demo so I had to use the same "before" for all three videos. I use natural light for lighting and sometimes the light can change making my skin color look slightly different in different light settings.
So these demos are silent so feel free to hit play without being outed…lol. I paused in between adding powder to show you what the foundation like because I've had some folks in the past ask to see that. I'll never wear a foundation without setting it with powder unless the foundation directions specifically say do not add a powder. I'm setting with NYX Stay Matte But Not Flat Powder in all three demos.
SHADE 13:
Giorgio Armani Power Fabric Longwear High Cover Foundation Shade 13 from Danielle Gray on Vimeo.
SHADE 14:
Giorgio Armani Power Fabric Longwear High Cover Foundation Shade 14 from Danielle Gray on Vimeo.
SHADE 14.5:
Giorgio Armani Power Fabric Longwear High Cover Foundation Shade 14.5 from Danielle Gray on Vimeo.
NOTE: Shade 13 was the closest to my match, but I wouldn't wear the foundation alone like that without adding some highlight and contour. Like most WOC, my face is darker around the perimeter and lighter in the center. See more about this in Why One Foundation Won't Cut it for Women of Color. See more contouring posts here.
Price and where to buy: Giorgio Armani Power Fabric Longwear High Cover Foundation comes in 20 shades and is $64 at Sephora (plus 3% cash back when you use eBates)
See more Giorgio Armani posts and swatches here
See more foundation posts, reviews, and swatches here