You guys looooved my Black Girl's Guide to Shopping at Sephora post, so I knew I had to do a follow-up for the drugstore which in many cases can be even harder to shop than Sephora. I did a post on this back in 2015 called How to Shop Drugstore Makeup When You Have Dark Skin (which discusses things like figuring out your shade—but also check out Are You Wearing the Wrong Foundation) and figured let's refresh it a bit especially as some brands have extended their shade range.
So here's the thing about drugstores and makeup shopping for people of color: much like marketing it's all about location, location, location. But even that doesn't matter sometimes. I live in a predominately Black neighborhood yet my local Rite Aid seems to think that only having beige shades is okay. I speculate on why that is all the time: maybe they know they don't make much on makeup so they only stock whatever because they *have* to keep makeup in the store, but if they don't stock makeup that people in the neighborhood can actually use, how will they really know that makeup doesn't sell at the store? I mean, I could be here all day trying to figure this out.
Sometimes you just have to check out numerous locations to see who has the better selection near you. I've found (at least through my own experiences living in NYC–it might be different for you of course) that the closer the store is to residential areas, the better the chances of getting a good selection. So by this I mean, you're more likely to find darker shades at your Walgreens that's within walking distance (or a quick drive away) than say the Walmart or Target since those stores tend to serve a wider range of people. Though Target just this morning had an event to announce some new brands coming to the retailer that will offer even more options for darker skin tones. Some of the brands include Coloured Raine, Every Hue Beauty, and more—check out this post to see more.
Most brands have store locators on their sites so you can find where the brand is sold near you.
But then if you still can't really find a good selection nearby, thank goodness there is the internet. I've found foundation shades that I couldn't find in-store online at Walmart.com and Amazon.com AND get this…in many cases the makeup was actually cheaper on those sites. That's the beauty of shopping online, you can price shop without even brushing your teeth. (But please brush your teeth…lol)
Unlike my Black Girl's Guide to Shopping at Sephora post, this will just name a number of drugstore brands as opposed to a specific retailer (i.e. CVS, Walgreens, Walmart, Ulta, etc) because some brands aren't sold in certain retailers and some brands you can only find at very select locations. But again, that's the beauty of the internet—you can usually find them online.
Also, I'm not including brands that have color makeup options (lipstick, eyeliners, shadows, etc) but don't have a decent foundation shade range for us. It would be too much work for me to include those brands especially since they won't put in the work to have shade options available for us. *shade emoji*
Figuring out your foundation shade at the drugstore can feel like advanced calculus. I've said before in previous foundation postings that there is no universal foundation guide in the beauty industry—it's even WORSE at the drugstore. At least department store brands tend to give you an idea of what a foundation might look like by describing the undertones. At the drugstore you mostly just get names that may or may not even come close to what the shade looks like. SIGH. This is when you take advantage of most drugstores who offer a money-back return policy if you don't get the right shade.
Maybelline
Currently, Maybelline has one of the most vast shade selections in all of the drugstore BUT that seems to only be within their Fit Me Matte & Poreless line. For some odd reason, the shade extension doesn't include the Fit Me Dewy & Smooth (although there are a number of darker shades in this formula) nor does it include some of the other Maybelline foundation or concealer lines—at least not yet. I will be happy when the day comes when they do, but for now, I'm pretty impressed with the 40-shade range of the Fit Me Matte & Poreless only. Perhaps there are more people who need a matte foundation than a dewy one—brands, especially the bigger ones do tend to track marketing trends and have access to sales stats.
Maybelline is definitely one of my favorite drugstore brands—they make on-trend as well as classic beauty items at great price points (the Fit Me foundation can be found for as little as $5.94 at Walmart). They have a number of foundation options but as I mentioned above not every foundation formula has the same vast shade range.
There's the new Superstay Full Coverage Foundation but it only comes in 16 shades of which only about 4-5 shades could work on darker (but not "too dark" *eyeroll*) skin tones. I haven't tried this foundation yet, though if the shades are similar to Fit Me, Shade 360 Mocha *might* work for me. A lot of people love this foundation formula so hopefully there will be more shades in the near future. Maybelline doesn't have undertone descriptions on their site, but there *is* a Fit Me foundation finder on their site to help you find your shade. Chances are though, your better shade match is found in the Fit Me Matte and Poreless line.
The Fit Me Matte and Poreless foundation comes in 40 shades and I've swatched a majority of the darker shades in this post. I LOVE this foundation and the range for deeper skin tones include a number of undertones (check the post to see swatches).
I also love that the Fit Me line has setting powders that actually work on most darker skin tones. You can check out my swatches and reviews here.
Maybelline also has the Superstay Better Skin, Instant Age Rewind Radiant Firming, Instant Age Rewind Eraser Treatment Makeup, Dream Velvet™ Soft-Matte Hydrating Foundation, Dream Velvet™ Foundation, Dream Matte® Mousse Foundation, and Dream Liquid® Mousse Foundation, but the shade range is quite small for all of these.
On the concealer end, those with darker skin tones may only have a few options that work to highlight under the eyes with maybe a few options to conceal other areas of the face in the Fit Me line. I have not tried enough of the Maybelline concealers (at least none of the recent ones out now) but I do see some that *might* work for me and if I get a few to try out, I'll review them on the blog. Make sure you're subscribed to the blog so you don't miss out.
See Maybelline reviews, swatches, and more here.
Black Opal
Black Opal is another drugstore brand favorite of mine as well as many makeup artists especially because of their foundation sticks and liquid foundations. I've reviewed a ton of products from the brand in the past so make sure you check it out here.
Black Opal is a line created for women with deeper skin tones so unlike a Maybelline or other mainstream drugstore brand, everything in their lineup is made with women of color in mind. You'll get greatly pigmented eyeshadows, blush, and lip colors along with foundation shades that are made with our skin tones in mind. The brand recently rebranded and their packaging has a sleek new look (which I love). They have a shade locator on their site to help you find your shade.
You can check out Black Opal reviews, swatches, and more here.
Black Radiance
Black Radiance is another fave of mine. It's a sibling company of Wet N Wild and as such they have a number of products that are on-trend and come at attainable price tags, but they cater to our skin tones. Don't let the low price point fool you, Black Radiance makes some good quality items including their contour kit, blush, and foundations.
They don't have a complexion range as vast as Black Opal, but they do pretty well with what they do have. I would say you're more likely to find your trendier items at Black Radiance vs Black Opal. They come out with cool items like contour kits and other items that are likely born out of Instagram makeup trends. It's always worth checking to see what they have.
You can check out Black Radiance reviews, swatches, and more here.
Milani
Ok, I know I've said the last few were faves of mine at the drugstore and it's going to get repetitive because Milani is also a fave of mine…lol. Milani is a family-owned brand that offers makeup staples like foundation, concealer, powder, and lip colors for a wide range of skin tones, but they also dabble in the trends. They make some of the most beautiful blush shades for women with deeper skin tones and their lip color products are sublime.

See more swatches here
Milani can be a bit pricier compared to other drugstore brands, but it's worth the splurge for great products.
You can check out Milani reviews, swatches, and more here.
IMAN Cosmetics
I wasn't even really sure if I would classify IMAN as drugstore, but it IS sold at the drugstore, so there's that…lol. The line was born out of the supermodel's frustrations at having to mix her own foundation together as many times makeup artists didn't have her shade available for major photo shoots and fashion shows. The line might have one of the higher price points at the drugstore but it's for a reason—you get great quality makeup and an impressive shade range. They have a shade locator on their site as well as a Meet Your Match service that helps you find a match based on other shades you wear.
You can check out IMAN reviews, swatches, and more here.
L'Oreal
Yup, you guessed it—L'Oreal is another drugstore fave of mine. They make great quality products but some of them can be up there for drugstore—thankfully a lot of drugstores do BOGO or 40-50% off sales so you just have to shop around to make sure you're getting the best price.
L'Oreal also owns Maybelline as well as a number of higher end makeup brands as well as hair care brands.
One of the brand's most popular products is the True Match foundation which boasts a nice range of shades and even as a mainstream brand, they actually understand that we have undertones so there are deeper shades in warm, neutral, and cool. I haven't tried True Match in yeaaaars and back when I did, I didn't have a spot-on shade match but there might be something there for you.
L'Oreal also makes my favorite eyebrow pencil: Brow Stylist Definer. I was previously using Anastasia Brow Wiz and this one is a great dupe for it at nearly half the price.
L'Oreal (along with sister brand Maybelline) is also pretty good with making tons of lip color shades that work on all skin tones and if you're looking for a nude lip color for your deeper skin, they might have a shade for you.
You can check out L'Oreal reviews, swatches, and more here.
Covergirl
Quick disclosure: I've worked with Covergirl a number of times in a consulting capacity.
Covergirl makes some of the best mascaras in the beauty industry, but beyond that they have a decent range of foundation, concealer, eyeshadow, and lip color selections for us via their Queen Collection line. They've recently rebranded and signed on new Covergirls that I really love.
The Queen Collection products are great quality (especially the eye shadows—I find them to be MUCH better than the Covergirl shadows from the main line). And the Queen Collection bronzers have long been a cult-favorite.
You can check out Covergirl reviews, swatches, and more here.
Makeup Revolution
I've only recently become aware of this brand which is currently sold at ULTA and ULTA.com, but they impressed me with their eyeshadow palettes and their concealer shade range (since my original post, they've come out with even more concealer shades). They might actually have some of the best eyeshadow palettes at the drugstore level. Teenage me is kinda seething because we didn't even have palettes (we'd be lucky to get a quad or a 5-color pan that had colors you didn't even really want to wear together…lol).
I would say this brand skews a little young but that doesn't mean you can't infiltrate and snag a palette if you're a woman of a certain age ;)
You can check out Makeup Revolution reviews, swatches, and more here.
NYX Cosmetics
I LOVE NYX Cosmetics. Definitely a favorite brand of mine…lol. They believe in producing high quality professional makeup at attainable prices. They also have an extremely impressive shade range among multiple foundation formulas. And if you were having trouble finding a match in any brand, NYX Pro Foundation Mixer is amazing because it can help to adjust the color to suit you best.
NYX makes great products even beyond foundation and concealer for those of us with deeper skin tones. Aside from some lip color formulas (particularly "trend" colors that applied streaky), I very rarely have issues with the NYX products I've tried.
I have noticed though that if you shop beauty supply stores you'll find the darker foundation, concealer, and powder shades that you might not find in some drugstores and ULTA.
They have a foundation finder on their site here.
You can check out NYX Cosmetics reviews, swatches, and more here.
Sleek MakeUP
I've been a Sleek MakeUP fan for yeaaaars before they even had a US presence. Now they're sold online at Walgreens.com and ULTA.com and in select Walgreens and ULTA stores. In-store locations might even have testers (the Walgreens I frequent has testers for all of the foundation shades).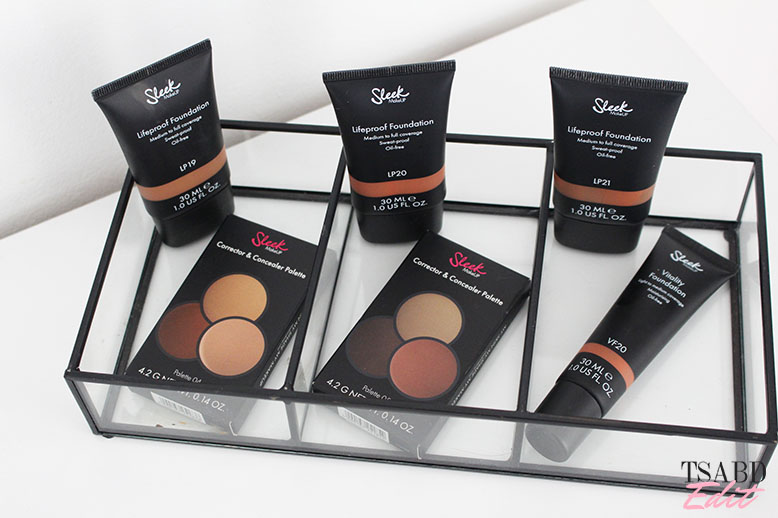 Sleek MakeUP makes amazing eyeshadow palettes, contour palettes, and lip colors.
You can check out Sleek MakeUP reviews, swatches, and more here.
Colourpop
I don't have a ton of experience with Colourpop products as I have only tried a very small amount of items but didn't want to exclude them because I do see they have a pretty decent range for darker skin tones and people really seem to love their products.
You can mostly buy Colourpop online, but some products are available at ULTA and Sephora.
L.A. Girl
L.A. Girl makes some amazing products that are comparable to some of the popular brands out there. I've reviewed a number of their complexion products (their $2 concealers are a cult-favorite—check them out here) and they have a great range for darker skin tones. They also have great color products (blush, highlighter, lip colors) that work amazingly on women of color.
You can check out L.A. Girl reviews, swatches, and more here.
Revlon
Revlon was one of my go-to drugstore foundation brands as I was obsessed with their Colorstay Foundation and a lot of their lip colors. I haven't tried anything recently though there are a number of interesting-looking products in their line-up.
You can check out Revlon reviews, swatches, and more here.
HONORABLE MENTIONS:
(their shade ranges aren't great but they make lower-priced makeup that are great for those new to makeup and/or those who want to stick to a strict makeup budget)
Jordana, Wet N Wild, e.l.f.
Nicka K is a brand mostly found at beauty supply stores. They have a decent shade range, but some of the products can vary in quality. You can check out a few I've tried here.
Best brands for…
To help you narrow things down to particular brands for particular products, here's a quick list based on my personal experiences with the brands.
Foundation/Concealer/Powder:
(in no particular order)
Black Opal, Black Radiance, Milani, NYX, Maybelline, Iman, L'Oreal, Sleek MakeUP
Blush/Bronzer
(in no particular order)
Sleek MakeUP, NYX, Black Radiance, L.A. Girl, Covergirl Queen (bronzer), Iman
Lip Color
(in no particular order)
Covergirl, L'Oreal, Maybelline, Iman
Trends
(in no particular order)
e.l.f., Wet N' Wild, Maybelline, Covergirl
Innovative Products:
(in no particular order)
L'Oreal, NYX, Covergirl, e.l.f.
Eyeliner:
(in no particular order)
Covergirl, Milani, L'Oreal, NYX
Eyeshadow:
(in no particular order)
NYX, Milani, Makeup Revolution, Black Opal, Black Radiance, Covergirl (Queen collection only)
Contouring:
(in no particular order)
Black Radiance, Black Opal (they don't have kits but their foundation sticks are amazing for contouring), Sleek MakeUP, L.A. Girl
What are your favorite drugstore brands and products? Tell me in the comments!
Also if you love this post, please share it with friends using the social buttons at the top and bottom of this post. I'd appreciate you spreading the love especially since it took some time to create this and the Black Girl's Guide to Sephora post.